Lodging
Host Hotel & Expo
The Hilton Fort Collins is the host hotel and Packet Pickup & Expo for the 2016 Colorado Marathon. Visit
www.hilton.com
for special rates and online reservations.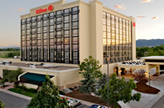 425 West Prospect Road
Fort Collins, Colorado 80526
(970) 482-2626
www.hiltonfortcollins.com
Note:
Event provided luxury buses will pick up guests staying at the host hotel. This service is provided only to participants in the Marathon and Half Marathon and only to those staying at the Hilton.
Click here
for busing information.
Affiliated Hotels
The following hotels have partnered with the Colorado Marathon to offer our participants discounted rates. Please make sure to confirm directly with the hotel you have received your special rate as a guest of the Colorado Marathon.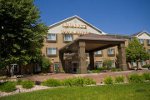 Quality Inn and Suites
4001 S. Mason St.
Fort Collins, CO 80525 USA
Phone: 1-970-282-9047
Fax: 1-970-282-4473
www.qualityinn.com
Start date: 5/2/15
End date: 5/3/15
Last day to book by: 4/3/15
Special Colorado Marathon rate: $129 USD per night
Courtyard Fort Collins
1200 Oakridge Drive
Fort Collins, Colorado 80525 USA
Phone: 1-970-282-1700
Fax: 1-970-282-1777
Toll-free: 1-800-471-2138
www.marriott.com
Start date: 4/30/16
End date: 5/1/16
Last day to book by: 4/9/16
Special Colorado Marathon rate: 159.00 to 169.00 USD/night
Best Western University Inn
914 S. College Avenue
Fort Collins, CO 80524
BestWesternUniversityInn
Special rates for Colorado Marathon
Saturday, April 30, 2016
$144.00 plus tax per night.
Includes breakfast and free internet access.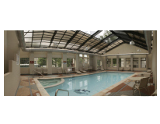 Individuals must call the hotel DIRECTLY at:
(970) 484-1984 OR TOLL-FREE 888-484-2984
and identify themselves with the Colorado Marathon
in order get the discounted group rate.
Based upon availability.
BestWesternUniversityInn
This Fort Collins Official On-Line Guide for Visitors provides you with a full menu of choices to help you enjoy your stay.
Whether you're visiting for a day or a week, Fort Collins offers you plenty of choices for fun. We'll show you where to shop, where to hike, and where to dance.
For more information about Fort Collins, Colorado, visit the Fort Collins Web site at
www.ftcollins.com
Fort Collins

Fort Collins #1 place to live in America?

In 2008, CNN/Money magazine ranked Fort Collins #2 in America's best small cities. So, come visit our little treasure nestled against the Colorado Rockies and Rocky Mountain National Park. Denver International Airport is a short distance away.